Santorini photo shoot FAQs
everything you wanted to know about a Santorini photo shoot
Santorini photo shoot FAQs: booking
We are having trip to Santorini and want to book a photo shoot, what should we do?
First of all please read this Santorini photo shoot FAQs and think if any question left unanswered. Then please get in touch with me or my team using a way of communication you like. I'm available on mobile phone +306951661016 (including WhatsApp, Viber and WeChat), email info@hadjiphoto.com, via the contact form, in FaceBook and Instagram. Let me know the date(s) you would like to have a photo shoot and I will come back with the availability and the packages.
How do I book a shoot?
If the date is available choose a package according to your needs. To book a shoot a deposit should be done. The figures depend on the packages chosen. The deposit is non-refundable. When the deposit is done, you will get an email confirmation of your booking.
Is it possible to split the package?
Packages starting from 8 hours are available for splitting for an extra fee.
Should we provide meals for you during the wedding?
If the the package is above 5 hours please either provide meal or plan a time-out for me to get some lunch nearby.
We have heard that illegal photographers are experiencing problems in Santorini. Do you work legally in Santorini?
Yes, I work absolutely legally. I own a photo studio here in Greece registered by the Greek Authorities.
I need make up and hair do done. Could you please help?
I cooperate with the best Make Up and Hair Do Artists in Santorini and will help to book their services.
I'm looking for an agency to get my wedding planned, can you recommend any?
Sure, I cooperate with the best agencies in the island, so just ask me for the info.
We also need a cameraman to capture our wedding. Can you recommend anybody?
Yes, sure. Just ask me for that and I will help with the bookings.
We are tight in the budget, could you please offer something?
Just email me what your budget is and I will come up with the ideas what can be done.
Santorini photo shoot FAQs: payments
How do I pay?
Deposit (a part of the sum) is paid beforehand to secure the date. The balance is due on the shoot day.
What payments do you accept?
I accept PayPal, banking wires in euro, credit cads, cash and Western Union.
Santorini photo shoot FAQs: equipment
What camera do you shoot with?
I use several Canon cameras, each for it's purpose, and the whole range of L lenses. Most of times it's two Canon Mark III cameras and 2-3 L lenses (wide angle, portrait fence and one for a specific job depending on a shoot type).
Do you use lighting equipment?
As I prefer natural light and authentic colors I try to avoid using artificial sources of light, as long as it's possible of course. But if the situation requires so I do use the lightning equipment, yes.
Santorini photo shoot FAQs: shooting
Ho do we meet?
When the shoot is booked you will be asked for contact details and information on your stay in Santorini. Usually I meet couples on the shoot day in their hotel. Sometimes we meet at the first location.
What should we bring along?
Please make sure to have a spare pair of comfortable shoes, if you will be wearing high heels. Sun glasses, sun screen and water are must. Light scarves, hats and sun umbrellas will help very much.
We are unfamiliar with Santorini, what locations do you suggest?
I know the island perfectly well and gathered a pool of different locations (starting by the must ones and finishing by rare unique spots) for my clients. When a shoot is booked you will get a gallery with different locations so that you are able to choose.
We are not experienced in modeling, could you please help us out?
Sure I can! Though I encourage any ideas a couple may have for a shoot, I guide my models during a shoot. So just relax and have fun: I will lead you through where to look at, what to do and when to say «cheese».
What is the best time for a photo shoot in Santorini?
The general rule is avoid the hottest hours, as for the detailed planning I will consult every couple/individual after a shoot is booked.
Should we go for a sunset shoot?
Sunset lasts 20-30 maximum and the outcome is not very big: just a few photos. Sunset shoot is great, if you have a day-lit photo shoot before, otherwise I would recommend to choose other hours.
If it's rainy on the shoot day, can we postpone the shoot?
The rains are quite rare in Santorini and if any occurs it ends really soon. In the unlikely situation when it rains a whole day, there is an option. The shoot can be postponed to the next day for an extra fee provided that there is an sufficient time slot for that.
The sky in your pictures is so blue, is it real?
Yes, it's absolutely real. My true passion is nature and colors of Greece. I have mastered my shooting and processing skills so that the colors on pictures remain bright and natural. I do not over-filter the photos so you can get the most true memories of your special day.
Santorini photo shoot FAQs: postprocessing and retouch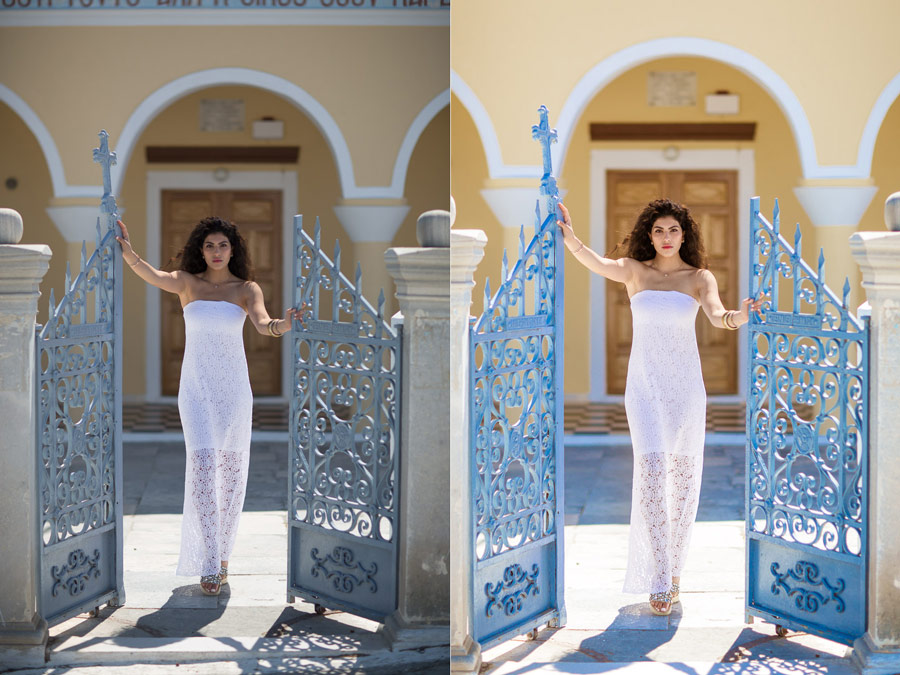 Postprocessing and retouch: what is the difference?
Postprocessing means crop, light- and color-correction while retouch involves more sophisticated manipulations e.g. removing blemishes and working on the complexion, removing undesired objects, changing shapes (making slimmer/thicker) etc. Note: the most of the photos on this web-site are postprocessed and only a few of them are retouched. Please refer to the photos below to see the difference between un-retouched (above) and retouched (below) pictures.
Please note that the hair is almost non retouchable. That means if the hair is messy during the photo shoot there is almost nothing can be done when retouching. So if the hair is important for you, make sure you (your hair-dresser) fixed it enough to survive in the windy Santorini weather. Adding object and complete changing of background have nothing to do with retouch and won't be taken for implementation. Those are the common rules and anyway, every client's demands are to be discussed separately.
How do I choose photos for retouch?
When the postrpocessing is done, you will get a link to a web page created specially for you. The page will contain a photo gallery with the postprocessed photos. Please note that every photo you get is postprocessed. Depending on the package you will chose number of pictures for the artistic retouch. When making a choice for retouch you will be able to leave a comment on each chosen photo as to what you want to be changed.
Santorini photo shoot FAQs: delivery
When I get our photos?
Postprocessing is done according to the line of clients (first shot – first done) and may take up to 16 weeks. We do our best to deliver the results faster but the quality is what really matters to us. If you need the results delivered faster, please ask for the speeding up service.
Why it takes so long?
The more demanded is a photographer, the more time is needed to get the sets postprocessed. It's entirely the matter of quality and timing.
What is speeding up service?
If you want your photos postprocessed faster, you can book a speeding up service which is mentioned in the price-list. In this case the set will be post processed within 2 weeks after the service is paid for. Speeding up does not influence the main line as it's done during my spare time.
How do I get the final photos?
When all the photos are ready you will get a notification to download your pictures in High Resolution.
Do you provide original files?
Providing RAW (original) files is an additional service and the costs may be found in the price list.
Do you have any questions? Ask me filling in the form below 🙂